UPDATE: I originally mislabeled this post Rock the World trio and have been rightfully corrected that it is Rock This Town. Oops! Sorry!
When I saw this trio at Nordstrom last week, I couldn't resist picking it up - the shades are right up my alley, they have my favorite "mix of crazy colors plus SPARKLEZ" finish, and I get excellent wear out of all the Deborah Lippmann polishes I've purchased so far, so this was a no-brainer for me. The bottles are all full-size too, which makes the bottles only $14 each (the set was $42). I consider that a steal when Lippmanns are normally $16-20 each and I get longer-than-average wear out of them!
Here is the set (minus the golden lid, because the clear plastic "window" and my camera flash didn't get along) in all of its holiday glory:
And here are the swatches! I do need to apologize for the inconsistent lighting across the set; I wanted to actually WEAR each polish, not just swatch it, and here in the Pacific Northwest the sun likes to play hide and seek, so although I took all three sets of swatch pictures during the afternoon on their respective days, the lighting is not even remotely consistent between them. Sorry about that.
First is Moon Dance, which I got a couple of lovely sheet marks on - but I think it accentuates its beauty, don't you?
Chain Reaction (please ignore the chili on my index finger's cuticle. I took these pics while cooking and didn't notice it was there until I went through the pics later. My bad!):
Phoenix Rising (this one in particular is NOT done justice by these pics - it looks ruddy and blah here but is far prettier in real life - I got several compliments on it):
Also, you know who else likes to play hide and seek in addition to the sun here in the Northwest? SPOCK THE KITTEN.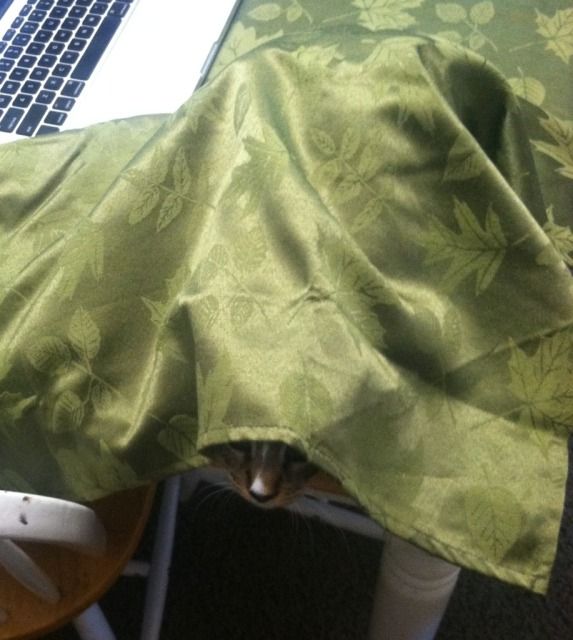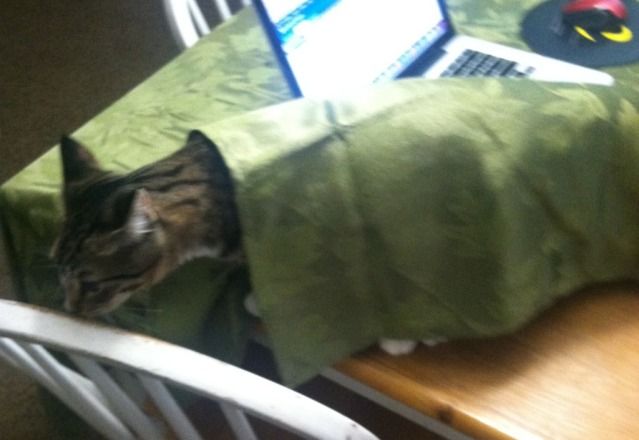 (He's not very good at it. I win every time.)
Disclaimer: I purchased the products featured in this post myself. Even the cat, if you count adoption fees.